Utilization of Ekso with Treatment of Alien Limb Phenomenon
In this webinar, Duncan Monger PT, DPT, CBIS, CSRS from Regional One Rehabilitation will be presenting on patients who suffer strokes located in the corpus collosum. This can be difficult to treat, as they are rare in presentation. Without communication between the two hemispheres it can be problematic to perform functional activities and can lead to severe communication barriers. The use of robotic gait training devices, like the EksoNR, allow for high intensity training, resulting in faster return to over ground walking and hemispheric communication.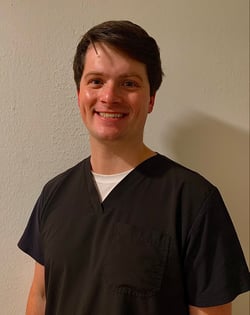 Duncan Monger
PT, DPT, CBIS, CSRS
Duncan Monger is a physical therapist at Regional One Health Inpatient Rehabilitation Hospital in Memphis, Tennessee. He graduated from the University of Tennessee Health Science Center with his Doctorate in Physical Therapy in 2019. He treats a wide variety of patients suffering from traumatic events, but has a passion for patients with neurological impairments. He has been a certified brain injury specialist since 2021, a certified stroke rehabilitation specialist since 2022 and a member of the spinal cord injury team. He has presented as a guest speaker at the University of Tennessee on the advancement in technology in therapy, specifically the exoskeleton application.
With advances in technology, many of those who suffer from spinal cord injuries have access to therapies that will allow them to regain mobility again. Exoskeletons are part of the group that has advanced over the years and is giving people with SCI's a chance to ambulate, exercise, and engage in mobility and autonomous activities. Check out our blog post to learn more about what exoskeletons are, how they operate, and how they can be beneficial in physical therapy for patients with spinal cord injuries.